Michelle Sigler Acupuncture
Services & Fees
Acupuncture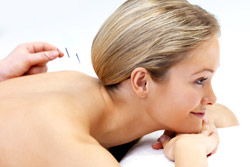 Acupuncture is an ancient healing technique which involves the insertion of fine, sterile, single-use needles into specific points on the body. The needles direct the Qi, or vital energy, to flow freely throughout the body to promote natural healing and balance.
The initial visit usually takes about 90 minutes and includes a thorough health history interview, physical exam and treatment as well as discussion of lifestyle habits, dietary recommendations and herbal formulas. The fee for the initial visit is $110. Follow up visits usually last about an hour and are $85. A package of 4 follow up sessions is $272 (save 20%). All acupuncture sessions include 10 minutes of massage therapy for relaxation or for targeted neuromuscular work. Cupping, electroacupuncture, gua sha and/or moxa are included, if indicated, at no additional cost.
Not sure if you're ready to try acupuncture? I offer a FREE 20 MINUTE CONSULTATION. We can sit down and discuss the pain or health conditions that you've been struggling with, and formulate a treatment plan. I can answer your questions and address any possible concerns.
NADA treatments are different from regular acupuncture treatments. They are based on the National Acupuncture Detoxification Association's protocol of using ear points for support with detox, smoking cessation, PTSD and also for general relaxation. There is no intake or exam with this appointment. NADA treatments are $55 (approx 30-40 min)
Facial Rejuvenation Acupuncture increases circulation and collagen production to minimize wrinkles and fine lines. It also helps reduce puffiness and improves skin tone giving you a healthy glow. It's a much safer alternative than more invasive treatments such as surgery or botox. This cosmetic treatment includes facial cupping massage and is combined with a full-body acupuncture treatment so that we can address your overall health as well. A new patient visit is $120/90 minutes. A Facial Rejuvenation Acupuncture treatment for return patients is $95/60 minutes. A series of 10 treatments 1-2 times per week is optimal.
Acupuncture Packages and Gift Certificates are available.
While I do not file insurance claims, I can provide a "superbill" with diagnostic and procedural codes for you to submit to your insurance company. HSA/FSA cards are accepted. Please check with your health insurance company to see if your plan covers acupuncture.
Chinese Herbal Medicine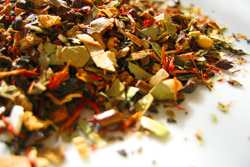 Chinese herbal medicine is a 2,000 year old tradition using naturally occurring substances — including herbs — to enhance one's health and vitality. As opposed to Western medicine, the foundation of this approach is to support the body's natural self-healing mechanisms and abilities. Unlike Western herbology, Chinese herbology rarely uses single herbs, but instead, relies on combining medicinal substances into formulas which are carefully balanced to reduce side effects. Herbal medicine can be used alone or as an adjunct to acupuncture care. Herbal linaments, poultices and plasters may also be used externally for musculoskeletal injuries and other topical applications.
An herbal consultation is included at no extra charge as part of an acupuncture treatment. An herbal consultation without acupuncture is $60 (not including the cost of the herbs) and takes about 40 minutes. A follow up herbal consult (without acupuncture) is $45 (approx 20 min). Cost of herbs not included.
Massage Therapy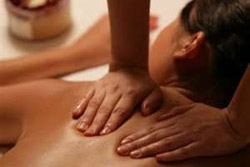 Holistic bodywork services include 30, 45, 60 or 90 minute sessions which are customized to your individual needs and preferences and may incorporate various techniques to target tension, relieve pain and increase flexibility. Modalities used may include Swedish, Deep Tissue, Neuromuscular, Myofascial, Craniosacral, Acupressure, Cupping, Reflexology, Hot Stone and Pregnancy Massage. Aromatherapy is always offered free of charge. $55/30 minutes, $70/45 minutes, $85/60 minutes, $110/90 minutes. Hot stones add $20. Facial Rejuvenation Cupping Massage Treatment (without acupuncture) $65/30 minutes.
Massage Packages and Gift Certificates are available.
Reiki
Reiki is a Japanese form of energy work that cleanses and balances the energy centers in the body. As a result, the body's natural self-healing mechanisms strengthen, helping to establish optimum health. During a session, the client relaxes on the massage table fully clothed. Reiki utilizes a gentle laying on of hands to remove blockages and release old energy patterns or beliefs that no longer serve, while balancing and restoring vital life force energy. The benefits of Reiki range from the release of habitual mental/emotional stress to alleviating chronic pain. A Reiki session is $85/hour.
Reiki sessions can also be done remotely. Long-distance Reiki works just as well as in-person Reiki and is available for people who cannot physically come to the office for a session. In-person private Reiki classes/attunements are also available. Call or message for details.